Industrial
State of the art technology offered by a global team of experts
Applications
Media Retention
Screening
Dewatering
Collection
Distribution
Separation
Product recovery
Advantages
The all welded construction offers unmatched benefits
Maximum open area
Flexibility in design
Smooth Working surface
Non - clogging openings
Optimised collection and distribution
Increased wear life
Low pressure drop
High Mechanical strength
Ease of Cleaning
Chemical Plants
Food Processing
Paper & Pulp
Sugar Mills
Starch Processing
Salt Plants
Water Treatment Plants
Waste Water Treatment and various process Industries
Header Laterals, Resin Traps. Nozzles, Candle Filters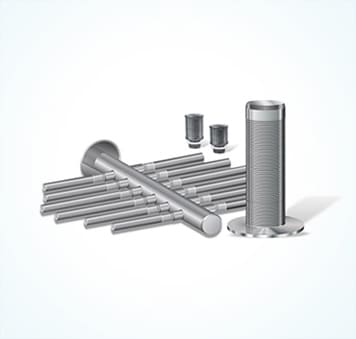 Flexibility in Design
Each screen is designed and manufactured to ensure complete customer satisfaction
Screens can be designed and manufactured to suit individual applications. E.g. Circular, reverse screens, screen baskets, pipe base, curved screens or sieve bends and many more.
Cylindrical screen apertures ≥ 80 micron are available for fine screening or media retention, in diameters as small as 40 mm (1.5")
Reverse screen apertures as fine as 100 micron and diameters of 200 mm (8") can be supplied to suit customer requirements.
Flat screens or support grids can be supplied with apertures starting with 80 microns.
All our wedge wire screens can be supplied in standard material of SS304/ SS316/ SS316L. Many other material grades are available on request.
Flat Screen & Seive Bend
Oil Mill, Sugar, Corn Processing, Food Processing; Flow in any direction based on application
Reverse Screen / Reverse Screen Basket
Salt, Paper, Sugar. Paint, Screw Press Waste Water; Flow in to out
© Copyright 2016, Apollo Screens