Screens for Water Management
State of the art technology offered by a global team of experts
Water Well Screens for Infiltration Gallery
Used to extract sub-surface water from river bed where conventional drilling may not be possible
Screen is installed at a depth of approximately 3 metres (10 ft)
Screen surround is covered with gravel
Screen to screen joints are flange connections
Each screen row is connected to main header pipe
Water percolating through surrounding area will be collected through screen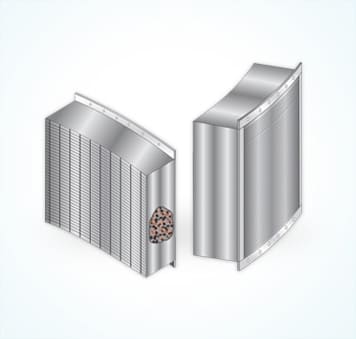 Pack Screens
Apollo Pre-Pack Screen segment for Intake Well
To filter suspended solids from flowing water
Pre-Pack wedge wire screens are installed on outer wall of intake well
Pre-Pack screens are manufactured from wedge wire screens
All Pre-Pack screens are supplied with surround frame
Frames are bolted together inside opening of well
Advantages
Larger percentage open area - hence higher flow
Available options for screen apertures - enhanced sand control
Screen apertures inwardly opening - non clogging benefits of wedge wire
Material of screens stainless steel 304 or 316 - minimized corrosion and extends wear life
Available in diameters and lengths / sizes to suit site conditions.
Apollo Gravel Pack Water well screen
The application for Gravel Pack water well screens is in unconsolidated formation, where conventional gravel pack is economically unviable and normal well development is doubtful.
Apollo Pre-pack consists of an inner and outer wire wrap screen packed with smooth accurately sized natural gravel. The pre pack material is installed in the annual space between the inner and outer screen.
This design allows closer contact between screen and aquifer improving well development, efficiency and installation time - reducing overall costs.
Gravel-Pack screens have relatively high porosity, which combined with their very high permeability minimize pressure drop. To ensure selection of a correctly sized gravel pack requires sieve analysis of a sand sample from the surrounding formation.
The installation of the gravel pack between the inner and out screen takes place in the factory, prior to shipping of screens to drill site.
A number of different gravel-packs are available.
Advantages of Pre-Pack Screens
100% gravel packing ensured
Eliminates conventional gravel pack
Sand pumping eliminated
Increased well efficiency
Reduced drilling cost
© Copyright 2016, Apollo Screens